MOHAN Foundation on Kaun Banega Crorepati

MOHAN Foundation is delighted and honored that Dr Sunil Shroff, our Founder and Managing Trustee, will be the next 'Karamveer' on KAUN BANEGA CROREPATI (KBC) on 9th October 2020 at 9 PM IST on Sony Entertainment Television (SET).

The Season 12 of KBC has added special 'Karamveer' episodes featuring passionate, committed individuals and organisations that relentlessly work towards making a difference for the betterment of the society.

And Dr Sunil Shroff is a 'Karamveer' in every sense of the word - this special man has dedicated his entire life to augment organ donation in the country. This is indeed a great step forward for the Foundation and organ donation in India.

Along with actor Riteish Deshmukh as champion of the cause, Dr Shroff will appear on the hot seat to raise awareness on organ donation. The episode will speak about his journey and the genesis of MOHAN Foundation that has been working for the cause for the last 24 years.


On the request of Dr Shroff, both Amitabh Bachchan and Riteish Deshmukh wore the green ribbon and the KBC set was turned green.
The colour green and the 'Green Ribbon' symbolizes hope for those who are waiting for a second chance at life through transplantation. It reminds us of the men, women and children who have died waiting for a life-saving transplant. It embodies our gratitude to donors and their families for giving the greatest gift of all, the gift of life.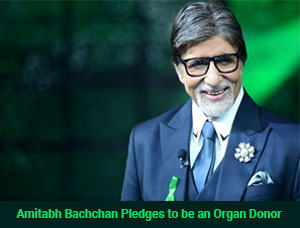 FAQ's and Facts about Organ Donation
Toll Free Organ Donation Helpline (24/7) - 18001037100
View Organ Donor Memorial
Know more about 'Karamveer' Dr. Sunil Shroff in his own words