National Organ Donation and Transplant Toll Free Help Line

(This initiative is supported by SBI Foundation)




National Organ Donation and Transplant Toll-Free Help Line - 1800 103 7100 was initiated by MOHAN Foundation and has been functioning from 2012 onwards. The objective of this helpline is to provide service which offers information, support, guidance and referral for all those concerned with any aspect of organ donation and transplantation.
We have been able to provide this service to the public in eight languages. • English • Hindi • Telugu • Tamil • Kannada • Malayalam • Marathi • Oriya
On an average we answer about 1000 calls a month. Share our National Organ Donation and Transplant Toll Free Helpline 18001037100 with your family, friends, colleagues, employees such that it reaches to the needy patients and they can contact us for more information.
Nearly 50% calls received by the helpline are in Hindi and Marathi language. 25% callers speak in English. The helpline gets more than 70% of calls during office hours. A snapshot of the call distribution is given below.
MOHAN Foundation's National Organ Donation and Transplant Toll Free Helpline supported by SBI Foundation won the Initiative Award (under 5 Cr budget) in the Swasthya Kalyan (Health and Well-being) Category...Read More
Annual total calls to the Helpline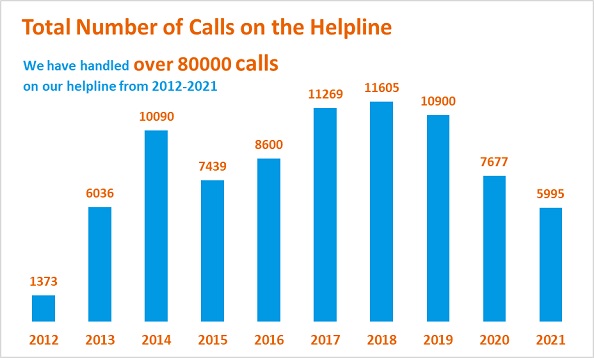 Language breakup of calls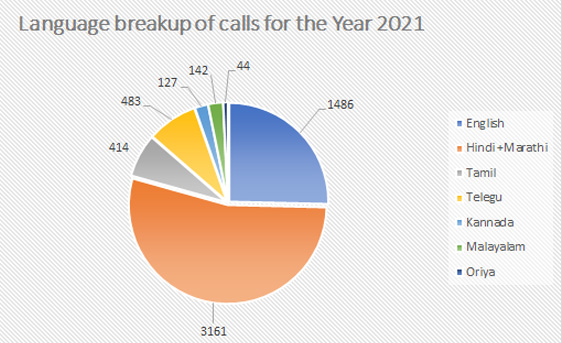 Donations through the Helpline
Donations done through Helpline
Recent impactful event 1:

On September 18, 2022, Dr. Hemal Kanvinde (Quality Assurance Officer, MOHAN Foundation, Chennai) received a call from Mr. Manoj Sethi, expressing his desire to donate the corneas of his beloved wife on the MOHAN Foundation National Organ Donation Toll free helpline number. Dr. Hemal contacted Ms. Preeti Goswami (Programme Officer, MOHAN Foundation, Delhi NCR office) at 2:43 AM and requested her to coordinate the case as the caller was from Delhi.

Ms. Preeti called up Mr. Manoj to find out the details of the patient. Caller's wife, Mrs. Mohita Sethi was 43 years old, resident of House no- 24/59, West Patel Nagar, Delhi-110008. At 12:30 AM, she was found unconscious on the bed at home hence immediately taken to Safdarjung Hospital, Delhi. She died due to cardiac arrest.

Mr. Manoj had pledged for eye donation some years ago. So, he wanted to be a part of this noble cause and made a decision to donate his wife's corneas to give someone a gift of sight. Ms. Preeti explained to the family the procedure of eye donation and coordinated with Safdarjung Eye Bank, Delhi for the retrieval of corneas which was done successfully at 7:30 AM.

MOHAN Foundation thanks the family for this decision.

Report by – Dr. Hemal Kanvinde
---
#2:

On August 17, 2022, Dr. Anita Hada (Project Director, MOHAN Foundation Jaipur Citizen Forum) received a call from Mr. Raj Singh, age 26 expressing his desire to donate the corneas of his father on the MOHAN Foundation National Organ Donation Toll free helpline number. Dr. Anita contacted Ms. Preeti Goswami (Programme Officer, MOHAN Foundation, Delhi NCR office) at 8:44 PM and requested her to coordinate the case as the caller was from Delhi.

Ms. Preeti called up Mr. Raj to find out the details of the patient. Caller's father, Mr. Daya Singh was 63 years old, resident of House no-78, Village-Surhera, Najafgarh, Delhi-110043. At 6 PM, he was found unconscious on the bed at home hence immediately taken to Rao Tularam Memorial Hospital, Jaffarpur Kalan, Delhi, where the doctors declared him brought dead.

The family had learned about eye donation from their neighbourhood, where many people pledged for eye donation. They also wanted to be a part of this noble cause so after Mr. Daya Singh's death, his son immediately googled "eye donation" and found MOHAN Foundation's toll free helpline number. The family went ahead with eye donation so that someone else can receive a gift of sight.

Ms. Preeti explained to the family the procedure of eye donation and coordinated with Y.P.M Niramaya Eye Bank, Gurugram for the retrieval of corneas which was done successfully at 12:30 AM.

Report by – Ms. Preeti Goswami
---
#3:

On early morning 11th August 2022, Dr. Hemal Kanvinde received a call for body donation in Hyderabad. She immediately informed Dr. Bhanu Prakash Transplant Coordinator, Hyderabad, about the request. Mr. Nageswar Rao stated that his grandfather B. Balasubramanyam 77/M, had died due to cardiac arrest at their residence in Khajaguda, Hyderabad. B.Balasubramanyam had pledged for body donation many years ago and the family wanted to fulfil his wishes.

Dr. Bhanu Prakash explained & coordinated the whole process of body donation with the family of the deceased and also coordinated with Dr. Prajaktha, Professor of Anatomy and Principal of ESIC Medical college, Sanathnagar, Hyderabad. Corneas were donated to LV Prasad Eye Institute.

MOHAN Foundation thanks the family for their generous gesture.

Report by – Dr. Bhanu Prakash
---
#4:

On 31st July 2022, Dr. Bhanu Prakash received a helpline call for assistance in body donation. Mrs. Anitha stated that her father Mallikarjun Rao had succumbed to cardiac arrest at their residence in Vijayawada, AP. He had pledged for body donation and expressed his will to donate organs to his family. Hence, to fulfill the wishes Mrs. Anitha reached out to MOHAN Foundation for the same.

Dr. Bhanu Prakash explained the process of body donation with a detailed overview on body donation. The family agreed to donate Mr. Rao's body to a medical college. Dr. Prakash coordinated with Dr. Swathi Anatomy professor Pinnamaneni Siddhartha Medical college, Andhra Pradesh.

Finally, the wishes of the departed was fulfilled with the Body Donation at Siddhartha Medical College, Andhra Pradesh.

Report by – Dr. Bhanu Prakash
---
#5:

On 16th July 2022, Dr. Bhanu Prakash, Transplant Coordinator in Hyderabad received a helpline call for corneal donation from Mr. Anil stating that his father Mr. P.B Jayadev succumbed to cardiac arrest. The deceased had pledged to donate organs. Fulfilling his father's request Mr. Anil Jayadev reached out to MOHAN Foundation toll free number for corneal donation.

Dr. Bhanu Prakash addressed the family and counselled them for Body Donation also. The grieving family asked for some time and agreed to donate their loved one's corneas and body to a Medical College. Dr. Prakash coordinated the corneal and body donation. Mr. Jayadeva's corneas were donated to LV. Prasad Eye Institute and the body was taken to Gandhi Medical College for research purposes.

MOHAN Foundation thanks the family for their generosity in times of grief.

Report by – Dr. Bhanu Prakash
---
Read More