Introduction:
MOHAN Foundation and Bhopuwala partnered to get you stories of hope, strength and the power to change someone's life. Listen to these Happy Endings Podcasts led by Abhishek.
Your story ends the day you take the last breath, but what if you could pass the baton to someone else for the beginning of a new chapter?
Each life is perceived as a gift, a gift worthy of passing on. Through Organ Donation, you cannot just pass on the gift of life but also stay truly immortal. Happy Endings brings to you the stories of such courageous people who transformed their lives and didn't give up in the face of adversity. Discover the way to numerous lives through Happy Endings.
Discover the way to numerous lives through Happy Endings.
Epi : A Father's Desire
Manhohal Mahal lived peacefully with his family until one day his fate decided to challenge his life and love for his family.




Epi : Youthful Courage
Just like any other college going student, Shreya's eyes were filled with hope, ambitions and dreams until the time destiny tried to challenge her courage, turning her life upside down.

Epi : Family
Naresh was living a decent life until one day he faced the threat of life. The fear of leaving behind his daughters made him question the importance of life.


---
Epi : Snowman
This is the story of Jaya, a mother who wanted to live for her daughter and the story of Jaya's mother who didn't think once before risking her life for Jaya.

Epi : Betting on Life
Vinner, a middle class man lived peacefully with his family until one day he bets his entire life to save the life of his daughter.

Epi : Love
Poonam was living a healthy life until one day fate challenged her love for her partner and put her in an intense questionable dilemma.

---
Bonus Epi : The Happy Conversation
A candid conversation featuring smiles, tears of joy, shivers and goosebumps. Catch Abhishek in conversation with Pallavi Kumar, Executive Director, Mohan Foundation, Delhi-NCR.

---
Eight Lives Saved: Podcast on Organ Donation Awareness

The podcast is aimed to shed light on the life-saving power of a single organ donation. The main objective of each episode is to hear a personal story from someone affected by organ donation and witness the moving, touching effects of this enormous act of kindness. This podcast serves as a platform to forge connections and share meaningful dialogue between members of the community.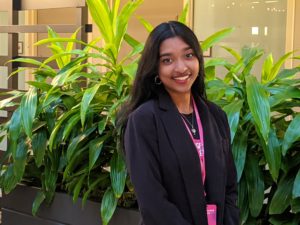 About Ria Mohan: Ria wanted to become an organ donation ambassador because she witnessed the direct detrimental consequences that those suffering from organ failure must cope with each and every day. Her aunt in India, who had to undergo dialysis three times a week, and was waiting for a kidney transplant for over 6 years now. This motivated her to take action for her and all the millions of people waiting for life-saving organs. Ria founded the TRIO Youth Ambassadorship for Organ and Tissue Donation Awareness to inform community members of the lifesaving power of registering as an organ donor. Ria believes that by sharing personal stories, she can inspire people to join the registry so she started a podcast. She will be attending an 8-year BS/MD program in college to become a transplant surgeon and hopes to continue advocating for increased awareness of organ donation.

On How to Save Eight Lives at Once, we talk to organ donors and recipients, medical professionals, and youth to raise awareness about organ donation.
Episode-1 : Ria Mohan, Our Founding Mother
Ria speaks of her personal experiences with her aunt's kidney failure and her commitment to raise awareness through many of her projects.



Episode-2 : Dr. Hemal, The MOHAN Foundation
Dr. Hemal sheds light on the story of MOHAN Foundation and its effort to create a support system for deceased organ donation in India.


Episode-3 : Danielle Sweeney, Seattle Children's Hospital
Daniella is a Transplant Coordinator for liver and intestine transplant. She takes us through a day's work and the joy of seeing a child lead a normal life after receiving a transplant.

Episode-4 : Andi, Kami and Mental Health
The two social workers speak about their work as they support donors and recipients to go through with the surgeries.



Episode-5 : Calvin Mathew - The High Schooler
Calvin was impacted when his uncle was diagnosed with Chronic Kidney Disease. He talks about his determination to tell youngsters that the disease of diabetes and hypertension have to be taken seriously.

Episode-6 : Dr. Bose, Mrs Lalitha and Aye Zindagi
The genesis of the movie Aye Zindagi and its chief players Dr. Anirban Bose and Mrs. Lalitha. Dr Bose and Mrs Lalitha speak of their experiences in Organ Donation.


---