Press & Media
Press & Media - Delhi / NCR / Chandigarh
---
India faces acute organ donation crisis!
ZEENEWS.com, Tuesday, May 14, 2013
That Union Minister Vilasrao Deshmukh died last year in a Chennai hospital failing to secure a liver transplant on time underscores India's acute organ transplantation crisis. Each year hundreds of Indians die while waiting for an organ transplant. The reason: there is acute imbalance between the number of organs donated and the number of people waiting for a transplant. Systemic hurdles and rigid social mindset further portends a bleak future for organ transplantation in India.
Read More
Connected through music, singing for a cause
The Free Press Journal, Monday, February 11, 2013
Indian Ocean, one of the country's leading rock bands and considered one of the pioneers of the fusion genre, connected through its music to a few hundred appreciative fans Sunday evening, but this time it was for a cause — championing the importance of organ donation in a country where thousands die because there are not enough organs available for harvesting and transplantation.
Read More
Organ transplants: India's body repair vacuum
Business Standard, Sunday, February 03, 2013
When the 23-year-old physiotherapy student, who was brutally assaulted in a Delhi bus was sent to a Singapore speciality hospital last week for a likely organ transplant, many in India asked why. She died soon after she was sent abroad but the questions remain.
Read More
Intestine replacement allows man to eat normally
Hindustan Times, Saturday, January 05, 2013
Himanshu Singh's gangrenous small intestine didn't allow him to eat anything normally, which led to him go from weighing 74kg to 37kg in three years. He could not digest his food normally, his body was not able to absorb nutrients and he could have remained permanently dependent on intravenous related stories India's 1st successful intestine transplant done at Medanta nutrition.
Read More
The 9 O'clock News: The biggest stories (Dec 27, 2012)
NDTV, Thursday, December 27, 2012
Read More
A new initiative by Sir Ganga Ram Hospital
The Hindu, Thursday, December 06, 2012
"I lost my 13-year-old son Aman after a brief illness. He was declared brain dead with no chance of survival," says Mamta Jain who, despite being distraught about losing her child, took the brave decision to donate his organs.
Read More
Priyanka Gandhi, Brinda Karat pledge to donate organs
ZEE News, Wednesday, December 05, 2012
Priyanka Gandhi and Brinda Karat were among 500-odd people from different walks of life who on Wednesday pledged to donate their organs.
Read More
Organ donation by two changes 8 lives
Hindustan Times, Monday, August 20, 2012
Eight people, including a 25-year-old girl, got a new lease of life in the Capital after two families donated their mothers' organs within a span of 15 days last month. On July 18, Shashank and Neha Jain (names changed) expressed their willingness to donate the organs of their
Read More
Illegal 'live' organ trade on rise as donors fail to volunteer
The Economic Times, Saturday, August 18, 2012
As many as 1.25 lakh Indians died in road accidents last year, but only less than 20,000 of them had donated their organs - such as kidneys, liver, pancreas, heart, etc - for potential recipients.
Read More
Buzz around body parts
The Times of India, Sunday, July 01, 2012
For Jalandhar-based Varinder Kumar, 59, a recipient of a liver transplant, Pakistan will always be remembered with a moist eye and a warm heart. After all, he owes his life to a woman there.
Read More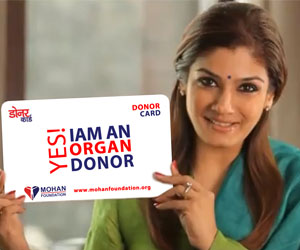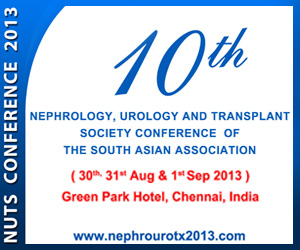 Organ Donation Videos