Mrs. Shashikala Keshav Bahirat -
72 Years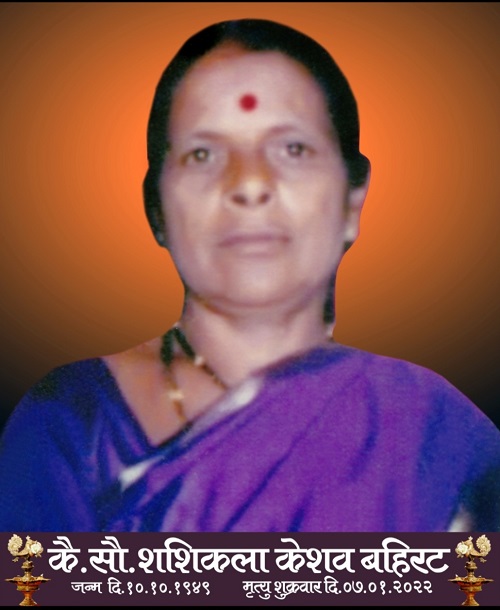 Mrs. Shashikala Keshav Bahirat, a 72-year-old woman hailed from Pune and work as a daily wage labourer. She had married off all three of her children. Unfortunately, on 29th December 2021, while she was in the bathroom, she suffered a massive stroke and she fell. She injured her head was rushed to Sassoon General Hospital, Pune in an unconscious state.

The ICU doctors observed intracranial bleed and began treating her; yet her health showed no improvement. She was diagnosed with raised intracranial pressure (a critical medical condition), with right ganglia capsular bleed. She did not respond to treatment and the doctors advised the family to take the patient back home and informed them that the patient's chances of survival were almost nil.

On 4th January 2022 patient's daughter Mrs. Paurnima Avghade contacted MOHAN Foundation helpline and shared with counsellor Ms. Rashmi Shetty, about her mother's health condition and her last wish to donate her organs after her death. Ms. Rashmi immediately contacted MOHAN Foundatinn's transplant coordinator, Mr. Jagdish Borude who worked in Sassoon Hospital, Pune and informed him regarding this case. Mr. Jagdesh Borude contacted the family and took an update about the medical details.

Sadly, Mrs. Shashikala expired on 7th January 2022 at 4.00 am and the family immediately contacted Mr. Jagdish.. He initiated corneal and skin donation, upon which he was informed by the skin bank team that retrieval of the skin was not possible due to the presence of edema in the body. The eye bank team too shared that the corneas were not found suitable; however they went ahead with retrieval of eyeballs for medical studies and research purposes and were sent to Sassoon Hospital thereafter.

MOHAN Foundation salutes the donor for wishing to donate her organs / tissues and appreciates the family members for taking the initiative to honour their loved one's wish. Jagdish handed over the certificate of appreciation to the relatives.