Ms. Manisha Roy -
19 Years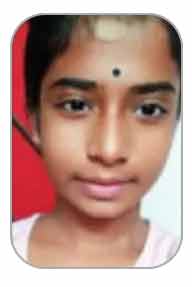 This memorial about Manisha Roy has been contributed by a recipient who had received one of Manisha's organs. In the recipient's words: "My heart goes out to her family for taking such a wonderful decision to pass on life. I can't express my gratitude and gratefulness for receiving one of her organs."

Manisha's Legacy Lives On…

On 10th August 2019, Manisha who was a resident of Maniktala in Kolkata, was out celebrating her birthday with her friend Abhishek. She had left informing her family that she would be return home before midnight. Manisha and Abhishek were speeding on the slippery Bypass road when they were thrown off the bike suddenly and it was unfortunate that they were not wearing helmets. While Abhishek succumbed to injuries on the spot, Manisha was rushed to a hospital nearby.

Manisha succumbed to the severe head injuries she had sustained and was declared brain dead on August 14, 2019.

Her family very graciously decided that they wanted her legacy to continue and consented to donate her organs.Manisha's liver, both kidneys and corneas were donated.

Always cheerful and helpful, Manisha was a kind girl with high aspirations and goals in life. An only child and avid animal lover, she was loved and adored by everyone who knew her. Biswajit, Manisha's brother was quoted saying, while it was heartbreaking to lose her on the eve of Rakshabandhan, it makes him happy knowing that she will continue living in others.