#1
Dr. Arup Kumar Mandal, M.Ch (Urol)
Professor, Department of Urology, All India Institute of Medical Sciences, Rishikesh - 249203. India.
Formerly Professor & Chairman, Department of Urology. PGIMER, Chandigarh.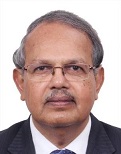 Frankly, I was not sure how the "Transplant Coordination Professional Certificateā€ one-month online course would be helpful. Now on completion of the course, I would like to emphasize that this broad-based course is eminently helpful for everyone associated with organ and tissue retrieval and or transplantation.
The curriculum covers almost all aspects of Organ and tissue donation, retrieval, preservation, transportation, basics of transplantation procedures, rules & regulations governing live and deceased organ & tissue donation and transplantation, grief counselling, relevant social, religious, ethical and humanitarian issues.
Read More
---
#2
Mr. Arun Thomas

My self Arun Thomas first of all I will great thanking you for giving me a valuable lesson for last one month. I gained lot of knowledge from this class it will be very helpful for me growing my career
---
#3
Mr. Naveen Rajadurai

This online course is not just zoom webinar where you mute your mind and thoughts. You will learn only when you open up. Moreover the modules were designed in an efficient manner. The webinars and role play made it more lively. Thanks to MOHAN Foundation team.
---
#4
Ms. Mrignaianae Kamble
It was a great experience to join this course and learn lot more new subjects. All the modules were elaborate and well explained. The lectures were of good quality. Mr. Shiva Shankar Sir is very supportive & kind. He answered all my questions very well anytime. I had gain a lot of knowledge regarding various aspects of Organ donation and Transplantation.
---
#5
Mr. Jagdish Borude, Transplant Coordinator, Sassoon Hospital, Pune.

The theme of this course is very beautiful and this course is really important to me as a transplant coordinator. This course covers all topics related to organ donation and transplantation. I got enough resource material for this course and all the resource persons are experts in this field. MOHAN Foundation has dynamically designed this course and it covers almost all aspects of organ donation and transplantation. Thanks MOHAN Foundation for having this learning opportunity as a part of training.
---
#6
Ms. Jennifer Deepak, Transplant Coordinator, Aykai Hospital, Ludhiana.

I am truly Happy to be part of this short TCPC course and even though Iā€™m working as a transplant Coordinator but still some of the points which were not clear to me has been made clear through this course the modules were very effective and the webinars helped to learn more practically. The best part I found knowledgeable for me was the cadaver transplant details, being a part of this course made me more confident and the MCQs present after every topic helped me to know my level of understanding.
Read More
---
#7
Mr. Vinod A.P, Clearmedi Radiant Hospital, Mysore.

I thank all your faculty members for providing me with this wonderful opportunity to be a part of this program. This program has been a wonderful experience and has helped me immensely. I am grateful to all the faculty members at MOHAN Foundation for the effort in sharing knowledge and working towards a noble cause.
---
#8
Dr. Megha Thapa, Physician Assistant, Apollo Medics Super Speciality Hospitals, Lucknow.

My experience of transplant coordination professional certificate has been amazing. The depth to which Transplant coordination was explained to us was very impressive. Webinars were really informative and interactive with case discussion and role-playing. I am really happy to have taken this course. The faculty is really nice and inspiring. I wish to follow on their footsteps and do justice to this profession.
---
#9
Mrs. Arasi Sharma, Independent Financial Advisor, Max Life Insurance Co. Ltd. MG Road, Bangalore.

I am really happy I took the call to join this program. Have worked in a multi-speciality hospital for several years. Recently I was so impressed with the Transplant Team at a hospital in Bangalore as I was the caretaker for a liver transplant patient that I wanted to learn more about how things actually work. MOHAN Foundation helped me garner the knowledge I was seeking.
ā€¢ The faculty is excellent in their presentation. It was a humbling experience to observe the talks and expertise of the young presenters like Sujatha and Elizabeth who made it so easy to understand.
Read More
---
#10
Mr. Amish Pathak, Chief of Operations, Kist Medical College & Teaching Hospital, Lalitpur, Nepal.

Thank you MOHAN Foundation for designing such a wonderful course. We were honoured to be a part of it. We also look forward for further assistance and cooperation in future with your esteemed organization. We hope with this course our team can implement the knowledge learned during this 1 month of academics.
---
#11
Lt Col Sudha Bairavi, Base Hospital Delhi Cantt.

It's a great honor to be a part of this course. It's truly an eye opener, despite my 22 yrs of service in armed forces medical field. I learnt a lot through this one month course. I was a bit skeptical about this course. My main intention was to add on certificates to my Resume but after the first webinar, my views changed. This course is short and very informative, content is well organised. Last but not the least I really appreciate the quality of the study material -Lectures and PPT of eminent doctors from all over India.
Read More
---
#12
Mr. Subhajit Paul

I feel grateful to have participated in this one-month transplant coordinator course. It is really very helpful for me. I had an amazing training in my life. The webinar classes were really good and explanatory. The speakers were good for all topics. I gained vast knowledge from this course. I am really thankful to the organization for giving me this wonderful opportunity.
---
Read More Feedback