Organ transplantation over the last 50 years has only been possible due to the magnificent act of organ donation by almost a million organ donors in the world. To recognize this noble act, Organ Donor week is celebrated throughout the world from August 8th to 14th.



MOHAN Foundation has been a facilitator of the cadaver programme for the last 10 years. We have tried to provide the donor families a platform to recognise their invaluable gift to society. Hence, releasing a special day postal cover during Organ Donor week is only yet another way of expressing our gratitude towards these unsung heroes who are the main backbone of this programme. The function was held on 14 August 2008.
Dr.Sunil Shroff, Managing Trustee of MOHAN Foundation, welcomed the guests. In his address he said that organ and tissue transplantation was now an accepted method of treatment for end-organ failure, be it kidneys, liver, heart, lungs or pancreas transplants or transplant of tissues like corneas, bone, skin, face. Approximately 1% of hospital deaths are due to brain death and this number is important in the context of organ donation. He also pointed out that, in one particular case of cadaver donation that happened abroad, almost 43 people were helped with donation of not only kidneys, liver, heart, lungs, pancreas, intestine, but also tissues such as corneas, hand, toes, arteries, veins, cartilage, skin and bones.
Present on the occasion were two special people, Dr.Selvakumar and Mr. K Raghuram, who represented the real heroes of the organ donation programme – the organ donors and their families.
Dr. Selvakumar is Professor and Head of Clinical Biochemistry at Christian Medical College Hospital, Vellore. His wife Daya Selvakumar is also a Professor of Biochemistry at CMC, Vellore. They have both been on the staff of CMC for more than 30 years.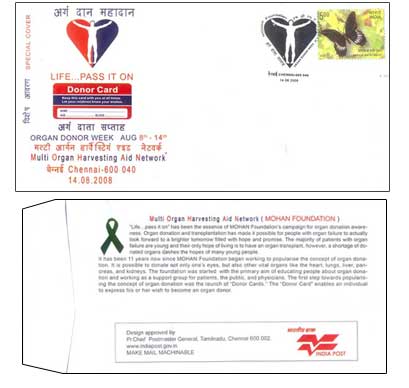 On January 18, 2003 their older son, John Deepak Selvakumar, passed away tragically in a motorcycle accident. John was a medical student in his final year at Vellore. He was the sort of person that any parent would be proud to have as a son. He was clever, hardworking, sincere, and had high ideals. Much before the accident occurred; John had discussed with his grandfather the need for encouraging organ donation to save other people's lives. John was brought to the Neurosurgery ICU at CMC and his parents were informed that he was brain dead. Setting their grief aside for a moment, the parents decided to donate the liver, kidney, and corneas of their beloved son. John left behind his parents, a younger brother and gifts to five suffering individuals whom he never knew.
Mr. K. Raghuram is not only the father of a multi-organ donor, but also the CEO of MOHAN Foundation, Hyderabad. Mr. Raghuram and his wife, Lalitha lost their 19-year-old son Swaminarayan in a car accident on 13 January 2004. Even though both of them had already been working with the organ donation programme, Swaminarayan's death presented a challenge to them. They rose to the challenge, so committed were they to the concept, and donated their son's organs. Mr. Raghuram said, "I now have five sons and daughters who have benefited from my son's liver, kidneys, and corneas. Let us pass on life; it is the most wonderful gift we can give when we leave."
Mr. T. Murthy, Postmaster General, Business Development, Technology and Marketing, said that he was happy to be associated with the cause of organ donation and stressed the need to educate the masses about this cause. He mooted the idea of Organ Donor clubs in educational institutions to promote the concept of organ donation amongst the youth.
The chief guest, Mr. P.W.C.Davidar, I.A.S., Project Director, Health and Family Welfare, Govt. of Tamil Nadu was greatly moved by the experiences of Dr. Selvakumar and Mr. Raghuram. He said that he was sure that the procedures and guidelines that were issued on brain death in Tamil Nadu would be able to help the cadaver organ donation programme and take care of some of the organ shortage.
The special day postal cover is dedicated to the "organ donors" of India. There is currently a global shortage of organs, but this crisis has a cure and by releasing this special cover MOHAN foundation hopes to create awareness about organ donation and also pay tribute to the organ donors of the country.